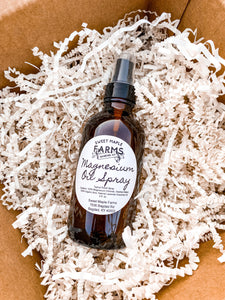 This natural Magnesium Oil Spray is perfect for anyone looking for an easy and convenient way to supplement their magnesium intake. With an easy-to-use spray bottle, you can add extra magnesium to your daily routine with ease 💧 🤩.
Zechstein magnesium chloride is sourced from 1600 meters below the sea bed, and it provides your body with a pure and natural magnesium solution that is free of manmade pollutants.
We package it in a 4 oz. glass amber bottle to preserve its integrity and enable its reuse. Enjoy a more energetic lifestyle today with Magnesium Oil Spray!
Benefits:
Relieves Muscle Aches, Pains, and Cramps
Help Prevent Migraines
Boosts Energy Levels
Improve Your Bone Health
Eases Anxiety
Promote a Good Night's Sleep
Fights Depression
Improve Your Heart and Cardiovascular Health
Contains Anti-Inflammatory Benefits
Helps Restless Leg Syndrome
Contains; Magnesium Chloride, Distilled Water, Organic Aloe Gel, Lavender Essential Oil.
This statement has not been evaluated by the Food and Drug Administration. This product is not intended to diagnose, treat, cure, or prevent any disease.