Know Your Food. Know Your farmer.
What ails ya'?
We are excited to introduce our brand new product - the Magnesium Oil Spray! This powerful and natural solution is designed to revolutionize your wellness routine and promote overall health and vitality.

Our Magnesium Oil Spray is a convenient and effective way to boost your magnesium levels, as the skin easily absorbs this essential mineral. Magnesium plays a crucial role in various bodily functions, including muscle and nerve function, energy production, and maintaining a healthy immune system. Incorporating magnesium into your daily routine can help alleviate muscle soreness, improve sleep quality, and even reduce stress and anxiety.

We understand the importance of quality, which is why our Magnesium Oil Spray is made from pure and premium magnesium chloride sourced from ancient seabeds. Our carefully formulated spray ensures maximum absorption, providing you with the optimal benefits of magnesium.

Using our Magnesium Oil Spray is simple and hassle-free. Just a few sprays on your skin and massage it in, and you're good to go! It's a perfect addition to your post-workout routine, before bedtime, or whenever you need a quick and rejuvenating boost.

Whether you're an athlete looking to enhance performance and recovery, a busy professional seeking stress relief, or simply someone who values their overall well-being, our Magnesium Oil Spray is here to support you on your wellness journey.

We invite you to take a step towards a healthier and more vibrant life with us today!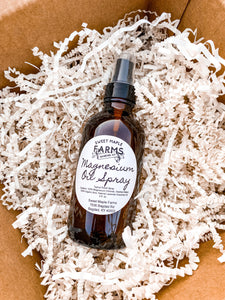 Meet Sophia Brown
Hey y'all!! I'm so glad you are here! I am the face of Sweet Maple Farms (Sweet Maple Living Blog), the maker, the creator, the do-er... the jack of all trades around here, but I wouldn't have it any other way! Native to a little town called Bagdad, Kentucky, and it truly is my "home sweet home"... I find so much peace here. 

In school I majored in Agriculture Communication, Horticulture + Animal Science... but don't let that trick you! I also have a passion for a little bit of everything in between.  Here on Sweet Maple Farm (Sweet Maple Living) Blog you'll find DIY projects, decor styling, recipes, working in the dirt, and even our sweet boys and happy hounds including Maple Mae - the inspiration behind our entire brand. When I'm not tending to the farm and family, you'll probably find me out and about, selling real estate! I hope you get inspired here in this space.

We are Kentucky Proud and Rooted In Shelby KY members.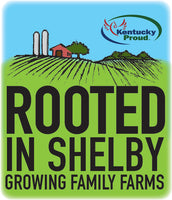 We ARE Rooted In Shelby and Kentucky Proud!
Rooted In Shelby is a program that identifies and promotes the sale of items produced by Kentucky Proud enterprises located in Shelby County, Kentucky. The goal of Rooted In Shelby is to build a network between farmers, producers, and consumers, promoting the use of Shelby County Products.