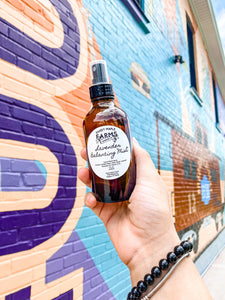 Transform your skin with the Lavender Balancing Mist. Its refreshing formula revitalizes your complexion, leaving you feeling refreshed and relaxed. Enjoy the calming aroma of lavender as you mist and balance your skin.
 Experience the soothing and rejuvenating power of nature with our Lavender Balancing Mist. This carefully crafted product combines the calming properties of lavender with the astringent benefits of witch hazel and the nourishing effects of vitamin E oil.

Our Lavender Balancing Mist is specifically formulated to provide a refreshing and balancing experience for your skin. The delicate scent of lavender helps to calm your senses, promote relaxation, and reduce stress levels. Meanwhile, witch hazel acts as a natural astringent, working to tighten your pores, reduce inflammation, and balance the production of oil in your skin. Lastly, the vitamin E oil deeply moisturizes and nourishes your skin, leaving it feeling soft, supple, and revitalized.
Whether you want to refresh your skin after a long day, set your makeup, or simply indulge in a moment of self-care, our Lavender Balancing Mist is the perfect companion. Its lightweight and non-greasy formula makes it suitable for all skin types, including sensitive skin. Experience the harmonious blend of lavender, witch hazel, and vitamin E oil in our Lavender Balancing Mist, and let your skin feel the love of nature.
Say goodbye to dull and tired-looking skin and say hello to a refreshed, balanced, and radiant complexion. 
We package it in a 4 oz. glass amber bottle to preserve its integrity and enable its reuse. 
Benefits:
Calming and soothing properties, natural astringent, tightens pores, reduces inflammation, balances production of oil, moisturizes, revitalizes and provides a quick pick-me-up, suitable for all skin types, reduces redness, lightweight and non-greasy formula. 
Contains; Distilled Water, Witch Hazel, Lavender Essential Oil, Vitamin E Oil.
This statement has not been evaluated by the Food and Drug Administration. This product is not intended to diagnose, treat, cure, or prevent any disease.