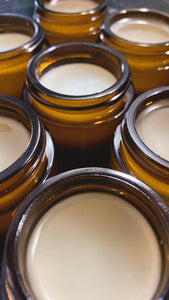 Experience natural, fast-acting allergy relief with Natural Antihistamine Balm! Our balm contains only the finest essential oils that help reduce the severity of allergy symptoms. Feel energized and refreshed throughout your day without the need for harsh medication. Try it today to find relief!
Our Natural Antihistamine Balm is a gentle yet potent relief option for allergy-related symptoms. Made with natural ingredients, it helps to reduce inflammation and irritation while protecting your skin from further irritation. Our balm is packaged in a 1 oz. Amber Glass Jar keeping in mind sustainable packing and reuse ability. 
To Use: Apply a small amount and rub on to skin as needed for relief. Apply directly to skin topically. If it is for breathing or sinus congestion relief, rub on chest, back, neck, or just under the nose. It can also be put on the bottoms of the feet. Please consult your medical provider when using any herbal products.  Our products are not meant to treat, diagnose, or cure any medical condition.